Gratuitous McAvoy before we begin the longest TIJA post ever!

First off, mega-jizz to myself for winning the office Oscar pool! Also, even though the show was a little lackluster, it ended before midnight for the first time I can remember! Unfair-jizz on the producers for not giving Amy Adams any sets or costumes while she sang the wonderful "Happy Working Song." And then giving Kristin Chenowith all kinds of extras and costumes for the even better "How Does She Know?"

A GIANT Welcome back Jizz for the writers and the red carpet! Make up sex indeed, Jon Stewart!

Now for the clothes!

Jizz: Keri Russell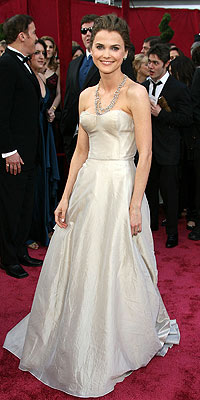 This year's big winner for effortless style and charm. She looked beautiful, comfortable, and happy to be there.

Jizz: Jennifer Garner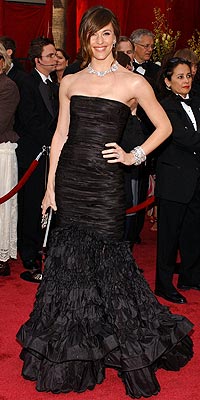 When in doubt on how to look when you know you should have been nominated, but weren't, just remember the way Jennifer Garner looked at the 2008 Oscars. Wow.

Jizz: Amy Adams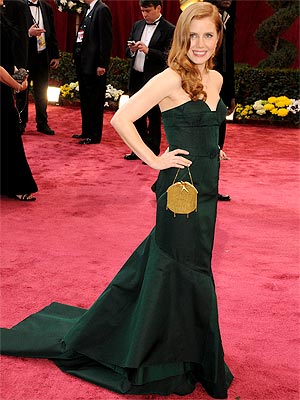 Green and gold with her beautiful skin and red hair. Perfection.

Jizz: Marion Cotillard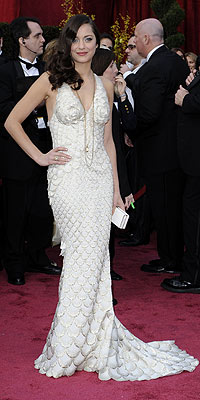 Kind of risky fish-inspired ensemble that just worked perfectly for her despite the French tramp makeup.

Knocked up Jizz: Jessica Alba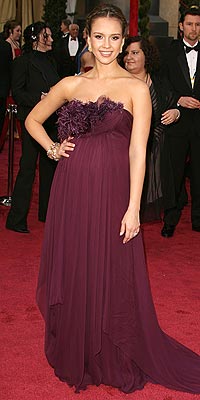 Cate Blanchett looked like she was wearing a cheap wig and a thrift store dress, especially when compared with our friend "Don't Call me Latina," who had great hair, and a surprisingly modest super-flattering dress.

Slightly jealous Jizz: Clooney and the luckiest girl in the world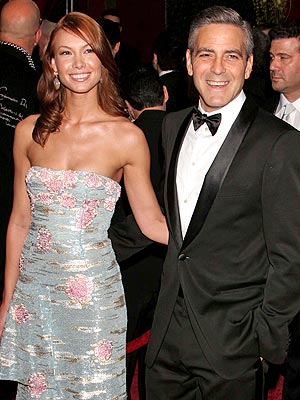 mmm - Clooney! A real man with megawatt charm who can take care of you while still keeping a hint of mystery. Sarah Larson was impossible to hate despite her questionable worthiness, because she looked like she knew that living up to the Clooney would be impossible even if she were royalty.

Reverse Jizz: Ellen Page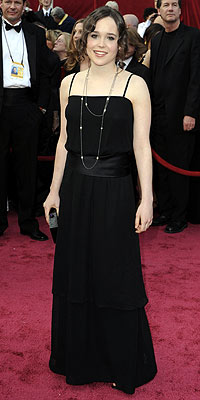 Juno, I told you not to wear anything shapeless and/or black, didn't I?! Also, your face kinda looked darker than your neck. Get a stylist, but not Jennifer Hudson's, OK?!

Reverse Jizz: Helen Mirren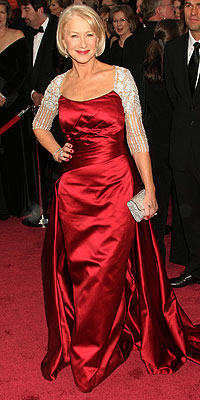 Helen, Helen, Helen! Knitting is very charming, but put down the needles when it is time to get ready for the Oscars! Where was your ferocity from last year?

Reverse Jizz: Diablo Cody


We know, you were a stripper. We get it. If you are going to attend the Oscars, don't just bedazzle your post-performance robe. Also, if you think you might win, wear panties.

Reverse Jizz: Hilary Swank


Sweetie, didn't your mother ever tell you to cover up those dumbo ears? Accentuate the positives!

Honorable Mentions:
Laura Linney! I thought she looked lovely and was so happy she didn't rock the cheap wedding hair!



Patrick Dempsey and his hot wife!



Oh and the Once song was great, even though I didn't like that movie very much. They were adorable and yay indie rock!

ETA: Fug Girls live blog the red carpet. This is basically a transcript of my conversations with Hilary & Christine.