Congratulations to Hugh Jackman for hosting the least boring Oscars ceremony I have seen in years, and yet still maintaining some dignity! I didn't feel cheated of my montages, and I loved the musical numbers.

There weren't too many major faux pas this year as far as dresses. I would have to say that the biggest Reverse-Jizz has to go to Reese Witherspoon. Sweetheart, I am all about taking risks, but did you look in the mirror? You could feel the collective gasp when she walked out on stage.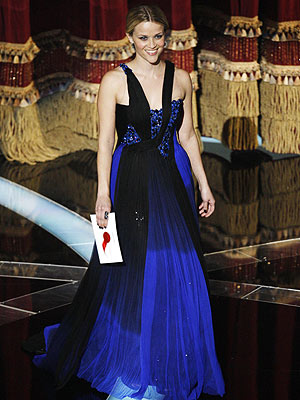 The biggest jizz of the evening goes to Penelope Cruz! Wow. A 60 year old dress, and she looked like a princess! There were some great dresses this year, and also some that didn't quite work - see Marisa Tomei (still can't believe you are 45), Kate Winslet (years of looking flawless, and you shanked it!), Ann Hathaway (although you were charming!) & Beyonce (worked that musical number, my friend!).




As for the men -

Robert Downey Jr. gets the big jizz for looking all clean shaven and successful with his pretty lady. Mickey Rourke got robbed, and he looked charmingly eccentric with the picture of Loki around his neck. Apparently, he had a tiny tuxedo made for Loki for the awards ceremony, but Loki died before he could wear it. Academy voters, I know that Prop 8 is an important issue, but have you no hearts?!




Most enthusiasm awards go, of course, to the cast of Slumdog Millionaire, and to Taraji P. Henson. I hope this makes all of your careers, you are adorable! And Danny Boyle, who is a little hobbit of joy.




All in all, a very enjoyable event. Short(er), snazzy, and I didn't fall asleep once! Kate Winslet, I am happy you won, but it is going to take you 4 washes to get whatever that is in your hair out. And, I must give tiny reverse jizzes of boredom to Angelina (despite your fabulous earrings) and Jessica Biel (seriously?!). I would have been more entertaining than the two of you put together. Academy, send TIJA tickets next year!

I have to put a gratuitous Meryl shot here. She is everything that I love about Hollywood - and she looked regal - great shoulders and neck, lovely color, and genuinely happy for everyone!



ETA:


Best Week Ever has the best liveblog ever!